About the Program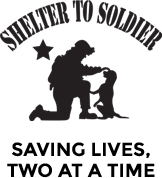 Based in Southern California, the Shelter to Soldier™ service dog training program is approximately 12-18 months in length, beginning with a thorough evaluation and subsequent adoption from a local shelter, a year, on average, of service dog training and task work, and handler training with an approved veteran. The journey through the program culminates in a special graduation ceremony for the pair and a new life together.
Post Traumatic Stress (PTS) is a major problem for our men and women in uniform, and its effects last far and beyond the battlefield. One in five veterans returning from combat tours suffers from PTS. Many of them are so debilitated that they are unable to leave their homes or engage in any meaningful way in society.
With the combination of therapy, medications and the companionship of a service dog who does not judge them but does inspire and require them to get up and out, our veterans can begin to experience a new lease on life. Service dogs can provide a boost in their veteran's confidence, increased productivity, and improved relationships through the sense of security and companionship.