The Fiestas Patrias Festival with The Barnes Firm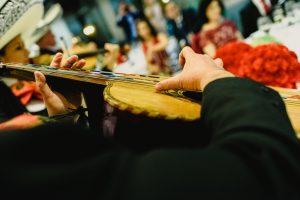 This year, The Barnes Firm celebrated Hispanic Heritage Month and Mexican Independence Day at the Fiestas Patrias festival in the heart of downtown Los Angeles.
The Barnes Firm enjoyed celebrating the holiday with 100,000+ attendees. With our booth set up, our team was happy to connect face-to-face with festival attendees celebrating the holiday and provide branded merchandise to those who stopped by.
The Barnes Firm invited the L.A. community to visit their booth and join the Hispanic community in kicking off Hispanic Heritage Month at the largest celebration event in the State of California! Attendees celebrated all weekend with cultural music, including Mariachi, Norteno, Ranchero, and other well-known Latin entertainers, authentic food from local vendors, and carnival rides and games for the kids.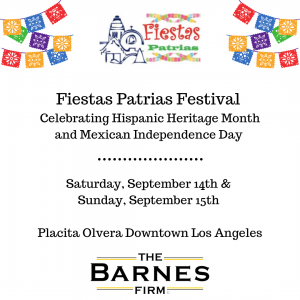 Hosted by CBS Los Angeles, the festival took place mid-September at the historic Placita Olvera. The venue of the festival was only fitting, as Olvera Steet is one of the most popular tourist destinations in Los Angeles and hosts numerous traditional events throughout the year, including the Blessing of the Animals (Saturday before Easter), Cinco de Mayo, Dia de los Muertos (Oct. 25 – Nov. 2), and Las Posadas (Dec. 16-24).
Event Program 
12:00 p.m. to 4:00 p.m. – Cultural programming with dancing and singing from local community groups
4:00 p.m. to 8:00 p.m. – Performances of a variety of traditional musical styles and Latin entertainers
The Barnes Firm car accident attorneys are always proud to give back to the community through local sponsorships!
The Barnes Firm Booth at Fiestas Patrias in Los Angeles