Help Make City Sidewalks Safer with SidewalkSnap
Presented by The Barnes Firm


After working with people who sustained trip and fall injuries from crumbling, broken, and uneven sidewalks or walkways, our team of skilled attorneys at The Barnes Firm decided something needed to be done.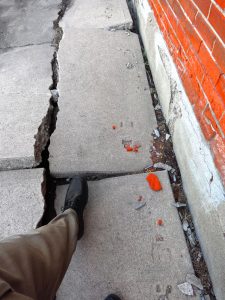 New York City neighborhoods are lined with sidewalks that are broken, cracked, and can be extremely hazardous to pedestrians walking from point A to point B, especially in a place where people of all ages walk as a means of transportation and recreation more than most places in America.
We want to give the people living and working in neighborhoods across New York City a way to notify responsible parties about unsafe sidewalks – SidewalkSnap.
SidewalkSnap is The Barnes Firm's new web-based application developed with the goal of putting an end to broken sidewalks, and thus, sidewalk personal injuries.
SidewalkSnap.com is an easy-to-use website which allows the community to report hazardous sidewalks in New York City, and share their locations with friends and neighbors.
Our firm hopes to make every sidewalk accessible for people of all ages and abilities, as well as, hold the proper people responsible for fixing them.
How Does SidewalkSnap Work?
It's as easy as 1-2-3!
In just three simple steps, you can make your community a more desirable place to live and enjoy. Here's how it works: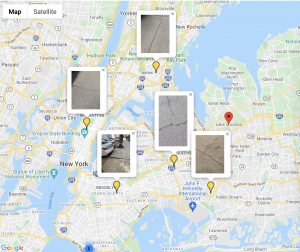 SEE it.
Once you SEE a damaged or dangerous sidewalk, open your smart phone browser and go to SidewalkSnap.com. Broken walkways can be found everywhere, but if the responsible party isn't notified of the issue, it may never get fixed. SidewalkSnap is here to help change that.
SNAP it.
Take a photo of the broken sidewalk with your smart phone. If you have location services enabled on your phone, SidewalkSnap will be able to automatically record the location of the hazardous walkway and the responsible party of the issue. If you do not have location services enabled, no worries–just manually enter the location when prompted.
SEND it.
Now, all you have to do is upload your photo of the broken sidewalk to SidewalkSnap.com, and we take care of the rest! Your photo will be used to notify the responsible party about a potential problem.
For more information and answers to frequently asked questions about SidewalkSnap, visit SidewalkSnap.com.
Injuries Sustained Due to Damaged Sidewalks
If you have been injured due to a damaged sidewalk, The Barnes Firm may be able to help. We take great pride in bettering the communities we serve by helping clients achieve the best result possible. Complete an online contact form today or call (800) 800-0000 for a free evaluation of your case – it could be the best call you make.